"Change One Thing" is a 12 step process over one year to help you achieve your health goals. You simply commit to make one change in your lifestyle every month, so that by the end of the year, you will have completely transformed to a healthy lifestyle. Why each month? It takes about 21 days to establish a new habit. So each month, you will firmly establish one change before starting another. Are you willing to take the challenge?
February Challenge
Eat 7 to 9 servings of fruits and vegetables every day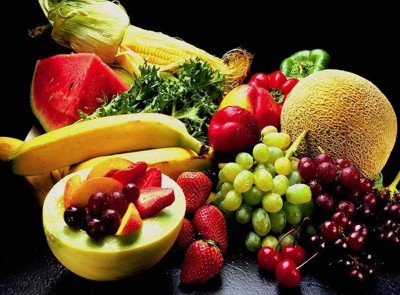 Benefits of fruits and vegetables:
Full of fiber: Increased fiber content in your diet which will help keep you regular, and will stabilize your blood sugar. Increased fiber intake also helps you lose weight. Fiber keeps our digestive systems healthy and prevents constipation, a problem for at least 40% of Americans.
Full of anti-oxidants: What are anti-oxidants? Chemicals that get rid of damaging free radicals that cause cellular damage. Examples of antioxidants are vitamin C and beta carotene which are found in a variety of fruits and vegetables.
Full of vitamins and minerals: The American diet is deficient in numerous vitamins and minerals. The average American consumes a diet containing low levels of calcium, potassium, fiber, magnesium, vitamins A, C and E to name a few. We know that low calcium levels contribute to bone disease. Potassium is important for regulating blood pressure. Magnesium deficiency also is associated with insufficient bone mineral density, and also increased levels of inflammation which contributes to many diseases.
High water content: It is estimated that 75% of Americans are dehydrated – chronically! Dehydration causes aches, pains and fatigue. Not only do we drink too little water, but we also eat too much dry, dead food. Fruits and vegetables have high water content.
Tips:
Eat fruit with breakfast, like a serving of berries in your oatmeal
Have a hearty salad with lunch
Make a smoothie of blended up fruits and vegetables
Eat a serving of raw fruit or vegetables as snacks between breakfast and lunch and dinner
Continue your January habit of drinking at least 8 glasses of water every day!
Is it really impossible to lose weight and keep it off? The statistics are discouraging: up to 95% of dieters gain their weight back. But it doesn't have to be that way. Studies show that the gradual adoption of specific habits is effective for maintaining weight loss. And even better, a healthier lifestyle gets easier over time.